---
Here's some tips on guards:

1. A router table is what you need to accurately make these. For those who don't know, this places the router upside-down with the bit facing up, in a tabletop, so that the router is steady and immovable, and the piece is moved past the bit instead.

The table can cost as little as $30.00. You can make your own by boring a 1" diameter hole in either a piece of plywood or MDF, or an old tabletop. Use a flush-cutting bit with a ball-bearing pilot. Double-face your rough-cut acrylic to an MDF pattern (I've accumulated a library of about 60 of these in the last 6 years!). I rough-cut on a bandsaw to within about 1/8" of the edge before I tape the acrylic and pattern together.

This is also a good way to round off the top edges of older 1960s Rick guards, though those were originally scraped in a somewhat random fashion.

2. To replicate older white Rick guards (the semi-translucent ones), use a translucent white acrylic, and paint the back side with white lacquer (can be rattle-can or through a spray gun). Don't use enamel. This will give it the depth of the old guards without being able to see completely through. Wiring doesn't show this way.

3. To drill larger holes in the acrylic guards (and pots typically take 3/8", while pickup selector switches take 1/2" holes)forst drill a 1/8" pilot hole with an ordinary sharp twist drill bit.

Then use a step-type sheet metal drill to enlarge the 1/8" hole to the appropriate diameter.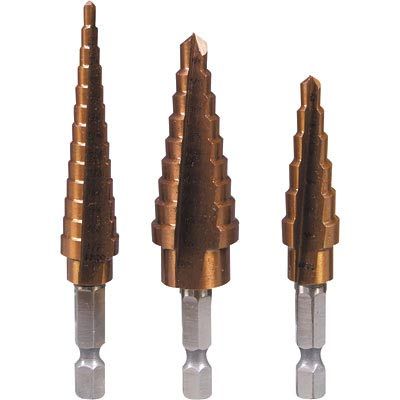 This is a single-flute bit that won't grab the acrylic like a twist drill will. It scrapes its way through the acrylic in 1/16" increments, and leaves a clean, flash-free hole. What's more, you can actually use a hand drill to make the holes with one of these--no need to use a drill press or pillar drill.